Mobile App Ecosystem 
App Revenue
Let's start with a broad picture of how much mobile app revenue developers generated in recent years with in-app advertising and from app sales on app stores combined. The recent data from App Annie for three major regions – APAA, EMEA and Americas reveals that in 2015 app developers in North and South America generated revenue on par with app developers in Asia, $27.4 billion against $28.4 billion and European developers only $13.9 billion. In 2016 the dynamics changed, app developers in Asian countries managed to earn about $37 billion, while their North and South American counterparts only about $35 billion, European mobile app developers generated $16.5 billion. By looking the year 2018 two years ahead we see it's projected that Asia will hit $85 billion, app developers in both Americas combined will reach only $74.5 billion, meaning the gap will remain. And finally Europe will roughly double the 2016 figure, reaching $29 billion in mobile app revenue.
Worldwide Mobile App Revenue in 2016, by region in billions USD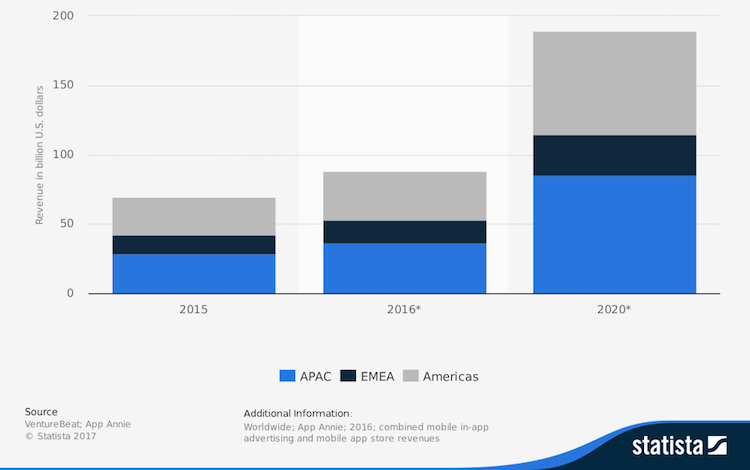 Source: Statista
Mobile app industry has grown to a highly competitive and challenging one where app developers revenue level significantly varies. To see how much let's see at the following graph that presents data for app developers revenue for independent developers, medium and large size studios. Couple things strike you right away – almost three quarter of independent app developers make less than $1,000 a month. On the other side of the spectrum are large studios, 55% of those make more than $10,000 and 34% preferred not to reveal their revenue at all, which certainly doesn't mean they are on a brick of going broke – quite opposite. Overall independent app developers average monthly revenue is $1,500, medium size company developers make $7,500 a month and large studios developers team generate on average $44,000 monthly.
Monthly mobile app developers revenue percentage split, by company size, in USD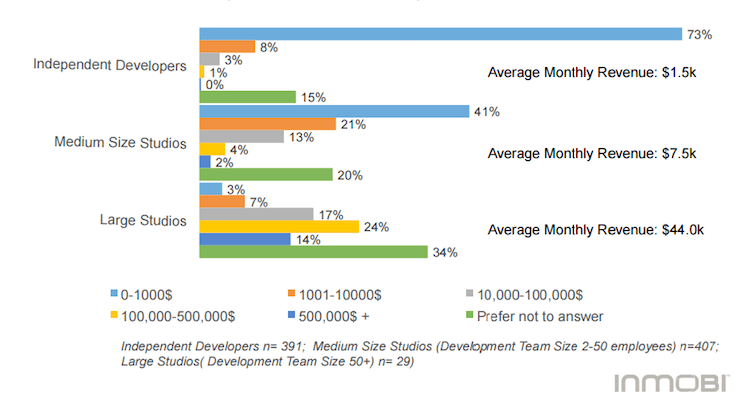 Source: Mobiversal
When we compare how much money do mobile app developers do in different countries, we see the following picture. United States still dominates for how much developers can earn a year – $107,000, Canada holds the second position with $68,000, Australia comes next with $66,000 and at the very end of this scale is India with $4,100 (yes, Indian app development market still provides the cheapest workforce). One thing we should remember that a salary figure alone doesn't indicate how valuable this annual income is in a particular country, we should factor in an average salary figure in those countries. With that in mind, $4,100 annual salary in India doesn't look like that low because the annual median per capita income in India is around ~$600.
Mobile app developer annual salary, by country, in USD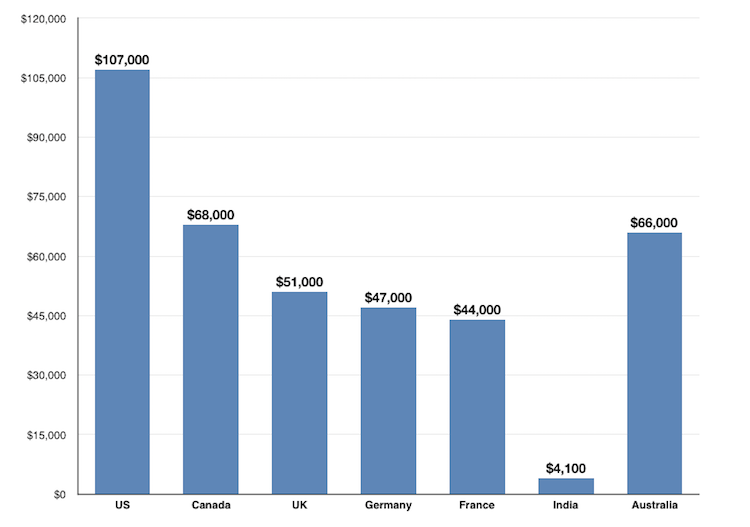 Source: Indeed
One of the crucial factors that influence mobile app developers salary is a coding experience they have, it directly translates into how much money companies are willing to pay for their service. Let's take a look at top software development markets such as Canada, France, Germany, United Kingdom and United States and so we can approximate its trends on mobile app developers salary. Software developers with up to 5 years of experience can make about $40,000 in France and UK, close to $50,000 in Germany and Canada and almost $75,000 in US. Having 5 to 10 years of coding experience under their belt, allows developers to ask for $100,000-112,000 in United States, around $55,000-70,000 in Canada and only $50,000 in France. US developers who have dedicated 15 years of their life and more make about $125k / year, on the other hand French developers with the same experience make about $60k / year.
Software developer annual salary, by coding experience, in USD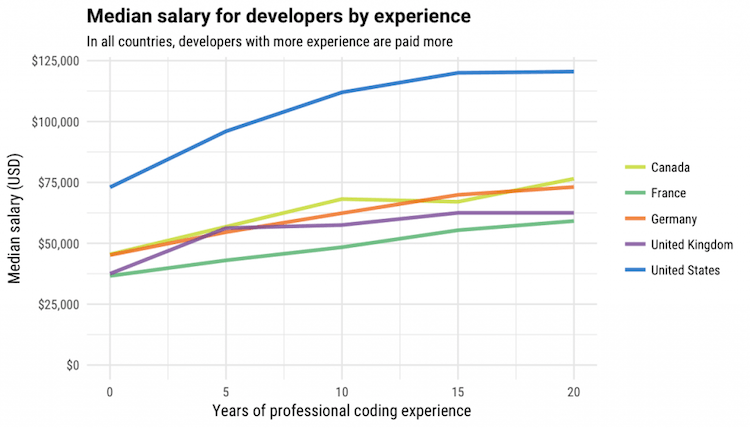 Source: Stackoverflow